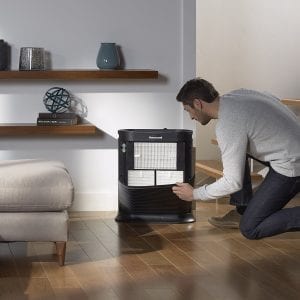 Honeywell makes a wide array of products to improve your home, with a focus on smart products that integrate advanced programming and intelligent design into common household tools. They're perhaps best known for their line of smart thermostats, but their appliances are designed with the same attention to detail. Their line of air purifiers gives you an option for every room size, all of which sell at a very reasonable price, considering the build quality and functionality.
The True HEPA Allergen Remover is aimed at eliminating particle pollution—in other words, the microscopic contaminants that are 10 microns or smaller.
These tiny particles are too small to see but can make a big impact on the quality of your air. Since smoke particles are some of the smallest contaminants, this makes the Honeywell Allergen Remover especially useful for smoke control.
The Honeywell Allergen Remover is focused on contaminant removal rather than odor control. You'll probably notice that your air smells fresher because it's more pure, but it will be less effective at removing set-in odors than some of the pricier models on the list.
For fresh smoke, though, the strong fan operation will take care of it easily. This is especially true when it's on Turbo mode and can purify the air in a living room or bedroom up to five times every hour.
In our experience…
This isn't the most powerful purifier—but it just might be the easiest to use.
You don't need any special tools to change the filter and the controls are simple and easy to read. There's even an auto shut-off feature that will power the purifier down after a specified length of time. You really can just set it and forget it, and you'll notice a difference in your air pretty much as soon as you start using it.
Features:
Color options: Black or white
Coverage area: 465 square feet
Cleaning levels: Germ, General, Allergen, Turbo
Filters: HRF-AP1 pre-filter, HRF-R3 filters
Filter life: 12 months
Dimensions: 9" X 20" X 22"
Weight: 21 pounds