Honeywell is a great company which produces high-quality evaporative coolers, and this one is no exception. The Honeywell CS10XE is a triple threat that will fit nicely into any home or office.
This unit is basically three appliances in one. It can function as a fan, as an evaporative cooler, and as a humidifier. It's perfect for smaller rooms such as bedrooms, living rooms, and dining rooms because it has a 100 square feet cooling capacity.
The Honeywell CS10XE features three cooling speeds, including Sleep Wind Mode which imitates natural wind. It also has a knob that allows you to easily adjust your preferred level of humidification. In the summer, you can use this device to cool down your room, and in the winter, it can function as a convenient humidifier, giving you a higher perceived temperature.
Want to know the best part?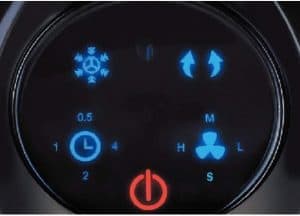 The convenient off timer which can be used to automatically shut the device down is just one of the things that make the Honeywell CS10XE energy efficient. It also uses just 102 W of power, which is approximately the same as a laptop.
It has a non-compressor system which provides efficient cooling without using a lot of power. The ice compartment allows for even better, faster, and more natural cooling. The unit saves up to 90% on energy costs. It has a removable water tank which is easy to fill, and it automatically lets you know when it's time to refill the tank.
The Honeywell CS10XE is designed to be compact and take up very little space, and it can easily be moved from one place to another because of its small size, lightweight, and rollers. It's also quite silent, with a median sound level at high speeds of 57 dB.
The Activated Carbon Air Filter in the unit is great for filtering unwanted particles from the air, which makes it perfect for people who are sensitive to dust. It also features a handy display which is easy to read and use. And if you don't want a lot of hassle, you'll be glad to know that the Honeywell CS10XE also comes with a remote control.
However:
Although this device provides quick cooling, it's not great for larger spaces, and it works best for spot cooling. This means that it's best used to cool particular spots in your home such as your bed, desk, dining table, or couch. Another downside is that users report that the tank can be a hassle to fill.
But the good news is that our research showed that the company's customer service is quite good, so if there's a kink with your device, they're quick to answer and eager to solve any problems.
Features
Portable
Fan + evaporative cooler + humidifier
Cooling capacity: 100 sq ft
3 cooling speeds including Sleep Wind Mode
Adjustable knob for humidification level
Energy-saving off timer
Uses 102 W of power
Comes with an Activated Carbon Air Filter
Removable water tank
Low water alarm
Compact design
Features rollers