Honeywell is one of the more well-known manufacturers when it comes to cooling and heating.
They were a lock to make our list, and our first pick from the company is the HYF290B from their QuietSet lineup.
Remember What We Said About 3-Speed Settings?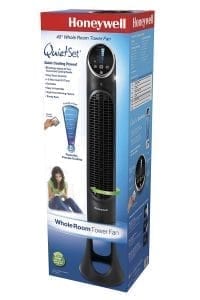 Well, that's not the case with this tower fan.
It has eight speeds which you can alter with the press of a button. They aren't in the usual layout either so you can choose from settings like Power Cool, Calm, and Whisper in place of Low and High.
There are additional controls on the top of this unit as well. A "dimming" feature gives you control over the lights at night time and there are controls for the timer and oscillation as well.
If you prefer to stay stationary and let the fan do the work, you'll be pleased to know the HYF290B comes with a handy remote control.
When not in use, you can stow said remote on the back of this unit.
The design of this tower fan is in line with the rest, so there are no big surprises in that regard. It does have a broader base than some, so it's stable, but won't break your back at 6.81 pounds. Honeywell used plastic in the build to keep things light.
While that's a standard material, this isn't the sturdiest tower fan we've seen and many consumers we polled feel the same way.
Numbers Can Be Misleading…
It measures 10" x 10" x 40" although the height should be taken with a dose of salt. The bottom and control panel at the top eat up some of the height, so it's more like 30-inches.
Unfortunately, that's not the only number that's a bit off as those speeds are more about the noise level than actual air flow rates.
As mentioned, this fan has more settings than most, and it's rated at 110 CFM.  That pales in comparison to high-powered models like the Vornado 184 and its 550 CFM rating.
Needless to say, don't be fooled by the numbers on this one as while it has plenty of settings, it does not produce nearly as much air as you'd think.
The Honeywell QuietSet HYF290B may be lacking in the power department, but it is effortless to use and easy to move from room to room. It comes with a standard 1-year warranty, but no real extras to speak of aside from the remote and a sparse user guide.
It's available in White or Black with a 6-foot cord.
Features
8-speed settings
Oscillating
Auto Shut-off
Dimming controls