If you need to cool down, get higher humidity in your space, or just enjoy a breeze, the Honeywell 525 CFM is a quality choice. Honeywell specializes in producing great evaporative coolers, and this unit is a great example.
This unit is meant to be used in small to medium spaces and it performs best in places where humidity is under 60%. It has a CFM of 525 and has a cooling capacity of 320 square feet. This makes it great for campers, garages, or single rooms, but it is not suitable for use outdoors.
However: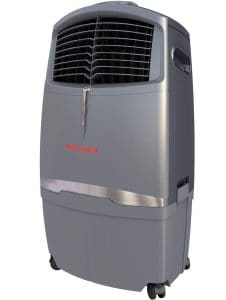 This unit features three appliances in one – a fan, a cooler, and a humidifier. If you only want a breeze, you can just use the fan function to cool down. We've found that one great thing about this unit is that it can be adjusted to imitate natural wind.
If you want to lower the temperature in your space, then you can use the cooler function. Simply put water or ice in their respective compartments. This unit provides a powerful airflow, while still using a relatively low amount of power – 288 W.
During winter months, this unit can be used to add some humidity to your space. It can easily be adjusted to fit anyone's preferences because it features three cooling speeds, including Sleep Wind Mode, and it also has an adjustable knob for controlling the humidification level.
There are a few more handy features to this unit. Namely, it has a timer which you can set to turn off the machine. This saves you effort and is energy efficient. The unit can also be controlled remotely with the full-function remote control.
It gets better:
This unit is also great for people with various allergies because it features an Activated Carbon dust filter. The water tank can be fully removed, which makes it easy to fill and clean. There's also a separate ice compartment. When the water levels in the tank become low, there's a handy alarm which lets you know your cooler needs to be refilled.
Our research showed that this unit is built extremely sturdily. It features Honeycomb cooling media, which means it has special cooling pads engineered from thick cellulose paper. This makes them resistant to deterioration, and they provide amazing cooling, low pressure drop, and will last for years.
There are a few downsides to this cooler. It has to be cleaned more often than some other coolers. While researching it, we've found that it's best to clean it once a month. Also, some users have reported that after a while the unit starts emitting a strange odor and that cleaning it out is a huge hassle.
The unit also features quality rollers, which means it's easy to move around. All in all, this is a good choice for an inexpensive cooler for smaller spaces. Just make sure you're in the right climate before buying this unit!
Features
Fan + evaporative cooler + humidifier
Cooling capacity: 320 sq ft
CFM: 525
3 cooling speeds including Sleep Wind Mode
Adjustable knob for humidification level
Energy-saving off timer
Activated Carbon Dust Filter
Uses 288 W of power
Honeycomb cooling media
Removable water tank
Low water alarm
Remote control
Features rollers