A Farewell to Armchairs
Looking for something functional but elegant enough to make you feel like the great writers of yore? Want that chair to still provide you with a great nap?
Well, the Homelegance Reclining Chair is just that!
"The Baroque is over."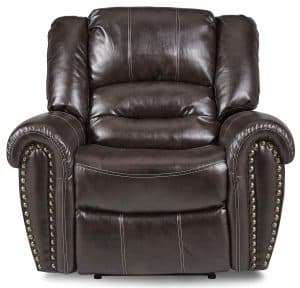 Its plush seating and bonded leather are great for keeping you cool and comfy while you nap like Ernest Hemingway after a long day of writing and adventures.
To Have and Have Not
Because this recliner has a lever, it does not require electricity—and Hemingway probably didn't have a motorized recliner either.
"I love sleep. My life has the tendency to fall apart when I'm awake, you know?"
—Ernest Hemingway
But that's just part of the story...
The footrest glides open smoothly but can close with difficulty at times. And with the short back, even Hemingway, at 6-feet tall, would just fit in this chair.
The gaps between the cushions that lead right down to the floor may pose a problem for the young adventurers who take it upon themselves to cause a raucous and jump on the furniture.
Best of all!
The Homelegance Reclining Chair has a matching loveseat, sofa, AND three-piece sectional to round out any classy writing den and to give you more napping options!
Hashtag keeping up with the aesthetics of it all!
Features
Lever recline
Matching add-on furniture
Dimensions and Weight: 42" (L) x 38.5" (W) x 40" (H), 95 lbs
Back Height: 27"
Seat Dimensions: 21" (W) x 22" (D)
Maximum Capacity: 225 lbs