Miter saws are one of the more expensive cutting tools for your shop, but occasionally one comes out that's affordable… and reliable. Hitachi managed this feat with the C10FCG miter saw, and while it is missing a few flagship features, you'll be blown away by the price tag.
Simple is the first word to come to mind when you set eyes upon the Hitachi C10FCG. It doesn't have high rails, and the features are kept to a minimum. That's a good thing when weight is a concern as this little sucker only weighs 24.2 pounds.  Despite its size, this 10-inch saw has plenty of pop thanks to a 15 amp motor.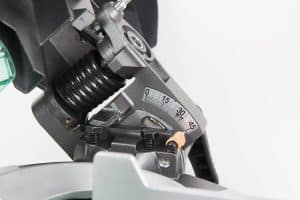 The motor can hit 5,000 RPMs, so it's quicker than our 12-inch models. Hitachi also made sure the brushes are easy to access and replace in the C10FCG which prolongs the overall life of the tool considerably. As for the rest of the components, the table and housing are in line with other saws, just not as fancy.
So, where did they skimp?
Whenever a tool is budget-friendly, the manufacturer has to cut a few corners to keep the cost down. While the motor, frame and other key components are well made, we can't necessarily say the same for the guard and a few other parts.
The blade guard works but feels as cheap as it looks. The knob for the miter is chintzy as well along with the thumb actuator surrounds it. Overall, the plastic just isn't as thick or durable as you'll find on pricier models. It won't be a problem if you take care of your tools although you will want to check everything closely out of the box.
You'll get a miter range of 52-degrees to the left or right and can set the bevel from 0 to 45-degrees on the left. The positive stops are set to 0, 15, 22.5, 31.6 and 45-degrees on the left and right. There is a flip fence as well which rises up 4-inches when you need to work with larger materials, but that's about it in the bells & whistles department. Despite a few shortcomings, it's quite impressive in action…
When less is more, and your budget is tight, the Hitachi C10FCG should be at the top of your list. Contractors may want something a little more versatile and heavy, but it's hard to argue with the price tag. It comes with a product manual, dust bag, a 24 tooth blade, and a 5mm hex wrench to go along with an outstanding 5-year warranty.
If you're looking for a bit more, there is a variant that comes with a better 10-inch 60 tooth blade and the UU240F heavy-duty stand. You can also opt for the C10FCH2 with a laser marker or the full kit with laser, blade and stand.
Features
15 amp motor
0 to 45-degree left bevel
Top handle
Vice assembly
24 lbs.