The name of this one says kitchen faucet, but we decided to include nonetheless. If you take a look at it's plumbing, design, as well as to the way people use it, it's just as suitable for a bathroom.
The biggest plus of this fixture is it's design.
It works perfectly with a simple, yet subtly extravagant modern design. If you want to see more of it "in action", check this video out.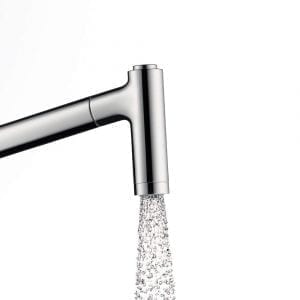 Even more so,
If you want to play with the aesthetics on this one, you can also change some components, with the ones available here.
Now, if we talk about technical details, the biggest feature to mention is the sprayhead docking feature. With this little tweak, you can detach the faucet head and use it more freely.
With that in mind, the product doesn't shine technically. It's not that durable, due to poor base materials, and the large water flow makes it really loud. All in all, it's not a bad choice, but not our favorite either.
This is mirrored by our research and our focus groups' opinion. It's beautiful, but it doesn't excel in the technical specs department.
Features
One lever control
Modern design.