Hercules was the god of strength and the Hercules Hose and Reel by Bulbhead takes after its namesake. This kink-proof, tear-proof, and leak-proof 75'-long, 1/2'"-diameter hose has an interlocking armor design and steel casing for toughness and strength.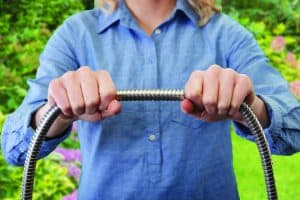 It also has industrial strength anti-leak connectors. During our research, the Bestazy team and consumers alike tested the hose's durability and strength by parking a car on it, dragging it over rocks, using it among thorns, etc. and found that it indeed is Herculean! This garden hose and reel also withstand extreme weather conditions, like beating sunlight and intense heat.
The reel itself is portable, easy to carry, and compact. Made of tough green plastic, the reel has four small feet to keep itself (and the hose) upright during use. It winds up the hose easily with a bright orange crank that spins the green reel smoothly around an orange center piece.
A study in contrasts:
Despite its rugged construction, the Hercules Hose and Reel by Bulbhead is lightweight. Users love those qualities as well as the fact the garden hose rolls up and stores easily on its reel for storage.
This is crazy:
Watch this garden hose withstand a lawnmower and a shark in this video.
Features
Dimensions: 5.75" x 13.75" x 11"
Includes both 75'-long, ½"-diameter hose and reel
Stainless steel casing