Our number four option is specifically built with classrooms in mind. The TeachingMart Heavy Duty Electric Pencil Sharpener is built for quiet precision and versatility.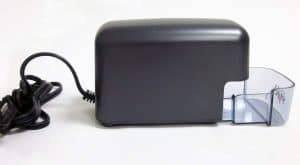 Plus, this particular bundle from Amazon.com actually comes with pencils to get you started!
One of my favorite features of this model has to do with its design. It's made with classrooms in mind for multiple reasons, but the fact it's made with a wide footprint and low profile keeps the safety of children in mind by preventing tipping.
I also like that it's built to be quiet, so it won't be disruptive in either an office or a classroom environment. It also has an auto-stop feature designed for safety and maximum efficiency. Whether you're sharpening your testing pencil or art pencils, you're sure to get a perfectly sharp pencil using this model.
The TeachingMart electric pencil sharpener is powered via a cord. NO batteries to operate. Customers frequently comment this unit is built to last and will not overheat with high-volume usage.