We rarely see any type of product that exudes both professionalism and childlike fun at the same time. This is one of those items, and it combines the two in an incredible fashion.
The Harvil table comes with a wide array of features.
You'll have fun with an air flow evenly pumped by the Underwriters Laboratory (UL) certified blower, but a good game is not everything this product promises.
The build seems structurally sound…
...since it's made out of sturdy materials, and the legs are bulky enough to support sudden and often bending over it.
If we're to talk about legs, you can place this table over any type of terrain, since it comes with (just as durably marketed) leg levelers.
Since this is a 5-foot table, you don't need a lot of space either, so a small game room should do the trick.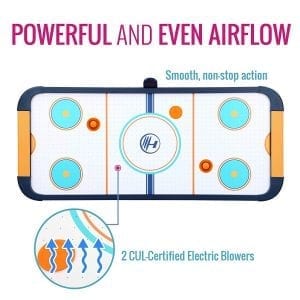 In terms of extra features…
This freestanding table comes with a plug-in electrical system, which contains an electronic scoring system besides the aforementioned blower. While the fan itself is powered by a regular plug, you'll need 2 AAA batteries to get the scoring system to function (which is a pretty weird design choice).
So why is this product's rating not a 10+?
There are a few problems you'll encounter if you purchase the Harvil 5-foot table.
Although none of these are deal-breakers, you should be completely informed of what you're buying.
Right off the bat...
...you may have problems assembling the table. There's a lot of screws and bolts in the pack, but the instruction manual is not as clear as it can be. It's not impossible to set up, but it might take you 1-2 hours before it's ready to play.
To add insult to injury,
Some screw holes didn't align in shipped products, so you may end up having to drill your own. This was not a problem in our case, but the issue arose for other customers.
Lastly,
We have to condemn the striker design. They're made out of cheap materials, and if you're an aggressive player you may end up denting or even breaking them. If you want to ensure a high-quality game no matter what, you may want to consider throwing in another 5 or 6 bucks for a set of similar strikers.
Still sounds like a good choice?
If you want to see how to assemble the product, be sure to check this video out.
Features:
5-foot Freestanding table
Electronic Scoring
Professional yet fun design
Plug-in system