This reminds anyone of the classic faucet design. It's got a simple aesthetic, qualitative technology, and it performs well.
Is it a truly good product?
We really like Hansgrohe's Comfort Zone. The faucet is easy to maneuver, so it compensates for the lack of precise temperature control.
Moreover, the EcoRight technology of this fixture meets EPA standards for water efficiency, and you get a well made product in terms of technical specifications.
If you're interested in this one, you can also get Hansgrohe's iBox, over here. This trim is compatible with all Hansgrohe plumbing accessories, and it works like a central command center for all of your plumbing.
The 110 Metris is not the most beautiful tool in the shed.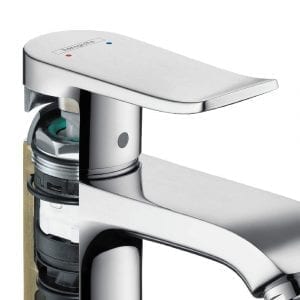 But it's not ugly by any means.
You can get a Chrome or a Gray finish on this one, so there's some versatility, but it's not a lot. However, if this classic faucet aesthetic meets your bathroom design needs, you won't be bothered by it.
If you want a closer look at it, how it fits inside a bathroom, or how you work with it, check this video out.
There's also something else we encountered during our research.
This was not a problem we struggled with ourselves, but a lot of consumers we spoke to seemed disappointed by the aerators on this one. When the product doesn't arrive with them, (that's an actual problem people have had) they're prone to breaking.
Features
EcoRight function
Meets EPA standards
Classic design