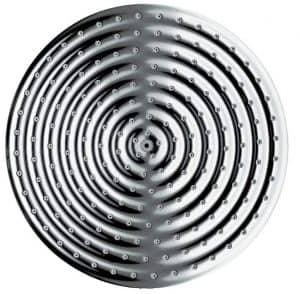 The 10-inch Raindance S240 features a total of 180 no-clog silicone spray nozzles that put out about 2.5 gallons of water in a minute. The unit is available in chrome and brushed nickel finishes and can swivel up to 26 degrees in any direction.
This shower head features Hansgrohe's AirPower technology that enriches the water with air resulting in a steady and softer flow of water droplets on the skin. However, we found that this feature defeats the actual purpose of the rain shower, which is a heavy outflow of water. Still, it's a unique and exciting feature to some.
You can also upgrade your shower for a multi-outlet experience with Hansgrohe's patented rough-in valve.
It also features the QuickClean anti-calcification function that prevents lime deposits and heavy droplets from clustering on the nozzles. The scale deposits are simply rubbed off.
Don't get too happy, though: 
The Hansgrohe is a very expensive showerhead to own. Our reviews show that even a tiny flaw in the unit leaves a very bad impression on the customers. Due to its high price, its target market is not an average household, and conclusively, the product is naturally prone to a lot of criticism.
Features:
Single spray mode: RainAir
180 No-clog silicone spray channels
Generous 10" diameter
Showerhead rotates 26 degrees in any direction
1/2" standard pipe connection
Fully-finished matching metal spray face
5 GPM flow rate for thorough coverage