Another appealing option for a beginning tenor ukulele is this model from Hankey. It costs a bit more than the Lohanu model above and comes with a similar array of accessories. The biggest difference between them, other than the price, is the material used in the body. It ranks lower on the list not because it's a bad instrument but because the increase in price over the Lohanu LU-T doesn't give you any extra performance or accessories.
The body of the KUT-70 is made of koa laminate. It's the only uke on this list to use this traditional Hawaiian wood, which is typically too pricey for instrument makers to want to utilize in beginner models. Koa has a density similar to black walnut, hard enough to give the notes definition but still allow enough resonance for a sweet sustain.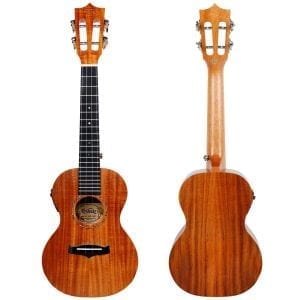 If these were solid wood instruments, the use of koa instead of mahogany would have a noticeable impact on the tone. However, since it's koa laminate,  a lot of the distinctive qualities of the koa are down-played. In fact, the combination of Sapele and mahogany used in the Lohanu is almost indistinguishable from koa, especially to beginner's ears.
This is not to say the KUT-70 is a bad instrument. It offers a comparable sound and build quality to the Lohanu. The tone, one that is clear and articulate but still full and smooth. Tenor ukuleles, in general, are better for fingerpicking, and the particular tonewood used here is perfect for that technique, letting you hear each note you play distinctly.
The KUT-70 also has a unique design, with more decorative features than you might expect to find on a beginner ukulele. The cutaways in the headstock are one such distinctive touch, as is the green shell inlay around the soundhole. Some of these design features affect more than just the look. The smoothed fret edges give it a more polished look but also make it easier to play, and the same is true of the slim profile of the body.
The KUT-70 is a fine choice for both beginners and more advanced players. The accessories that come with it are useful, from the padded gig bag to the handy clip-on tuner. In terms of value, though, you can arguably get the same performance for less money from other brands.
Specs at a glance:
Weight: 1.4 pounds
Body: Koa laminate
neck: Mahogany laminate
Fingerboard: Rosewood
Bridge: Rosewood
Nut/saddle: Ox bone
Hardware: Die-cast classical tuners
Included in the box: Gig bag, clip-on tuner, spare Aquila Nygut strings, shoulder strap, polishing cloth, picks, instruction book