This is a scope with an illuminated reticle and a 32mm lens, an eye relief of 3.5 inches and a FOV of 45 feet at 100 yards.
What's interesting about it from the get-go is the illumination. Instead of the standard (red or green) illumination, this one offers red of blue. There's nothing wrong with it, but it's worth pointing out.
The 4X magnification is definitely enough, as many users told us.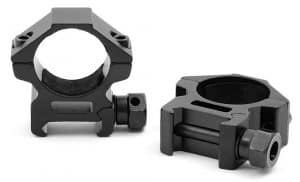 However…
A minor issue here would be the coating because the manufacturer didn't specify it. During our research process, we asked around and found out that – most likely – the optics are multi-coated.
The scope performs well in low light conditions, so this is probably a safe bet. It may not be fully multi-coated, but it's probably multi-coated. Just so you know.
The image resolution is solid, and the images are well-focused.
There are compensation markers on the reticle, but they are definitely not the same for all crossbows. This is why it's necessary to use a trial-and-error method if you want to learn each marker's range. This is a bit on the downside, to be honest…
And here's something else.
The Hammers Compact Red/Blue offers solid light gathering, but it's definitely not the best, according to what the users say. Also, the illumination is too bright, even at low intensity, which can cause you problems.  And what's interesting is that the blue light works a bit better.
This scope comes with its own weaver rings and it's very easy to mount. The downside is – if you have a dovetail mount, you'll need to purchase new rings.
Sighting in is not complicated, and it can be done with less than six arrows shot. The scope will hold zero for at least one season. It's durable and remains fog-free, even in cold weather and it won't leak even it heavy rain.
But here's the catch.
The biggest problem is that this scope doesn't sustain a fall very well. One user pointed out that he dropped it from 15 feet, after which the scope was practically useless.
It's safe to say that the Hammers Compact Red/Blue is good for what it is, but it could definitely use some improvement.
Features
8x1.26 inches; 11.5 ounces
4X magnification
3.5 inches eye relief
FOV 45 feet at 100 yards (user estimate, not specified)
parallax at 50 yards
5-level red/blue illumination
one pair of 7/8inch weaver rings