Loved by a food service professional and a highly trained chef, the Hamilton Beach (38546) 3 in 1 Electric Smokeless Indoor Grill & Griddle Combo is impressive. This reasonably priced grill griddle combo comes with two reversible griddle plates that snap in and out for versatile functionality:
as a full grill with both plates, ridged sides facing up for grilling steak ?, burgers ?, boneless chicken, fish, and vegetables.
as a full griddle with both plates, flat sides facing up for pancakes ?, eggs ?, French toast, risotto cakes, sandwiches ?, quesadillas, seared scallops, etc.
as a half grill/half griddle combo with one plate grill-side up, one plate griddle-side up for grilling one dish (e.g., hamburgers) on one side and heating a second, different dish (e.g., toasting buns) on the other.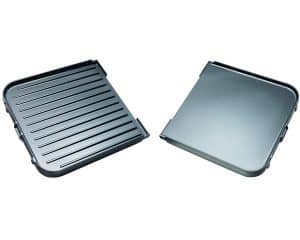 This large electric griddle easily fits five eggs plus five whites (or eight regular eggs). Users love that this indoor griddle allows them to grill indoors. They also love the dual control knobs for each plate.
Feel the heat?
The Hamilton Beach (38546) 3 in 1 Electric Smokeless Indoor Grill & Griddle Combo heats up well, although some customers say it doesn't get hot enough to cook a burger on the inside without burning the exterior. Others find the griddle grill great for searing steaks and cooking chicken. The plates' surfaces are okay until they become sticky.
A center channel with a drip tray underneath catches grease but makes the overall cooking surface smaller than expected. Some people complained about the oil running into and burning on the coils under the plates.
Speaking of grease
If you have greasy fingers, don't touch the temperature dials because the numbers wipe right off.
Nevertheless
All this grease can be cleaned off easily. First, remove the drip tray from underneath the base and pop it in the dishwasher's top rack. Then snap out the griddle plates and put them in the dishwasher too. Finally, wipe the base with a damp, soapy cloth and dry thoroughly.
Features
Cooking surface: 180 square inches
Dimensions: 3.74" x 20.11" x 11.02"
PFOA free
One-year limited warranty