You'll have virtually everything you need with this Hamilton Beach 31103A Countertop Oven. It uses convection cooking to heat and cook your food and also includes a broiler and rotisserie. You can cook a full 5 lb. chicken in this countertop oven or two 9x13 casserole dishes or two 12 in. pizzas.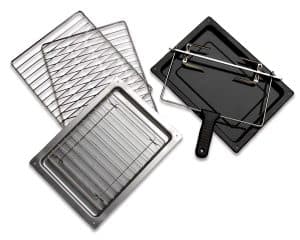 We loved its speed and efficiency. 
It provides a faster bake than most countertop ovens and uses 40 percent less energy than standard models, for more energy efficiency in your kitchen.
The Hamilton Beach 31103A Countertop Oven is large convection oven that has a big capacity that can almost take the place of your oven at times. This may take up some additional space on your countertop, but it will be worth investment based on its versatility.
The countertop oven is simple to clean with a non-stick interior that can be wiped down. It has a crumb tray and features to racks for convenient cooking of foods. You will have to wait five minutes to use the device as it preheats, but at 110 V it saves you plenty of energy use.
The Hamilton Beach 31103A Countertop Oven comes with four programmable settings and a temperature dial that allows you to hone in on the exacting heating you need for your meal. A generous two-hour timer gives you plenty of cooking time, and the automatic shutoff is a nice safety feature.
Because this countertop oven has all you need to cook, broil and rotisserie, we thought it deserved a spot on our list. Plus, it's only enhanced by its attractive stainless steel appearance.
Features:
Rotisserie
110 V
Convection setting
Bake and broil setting
Two-hour timer
Stainless steel
Non-stick interior
Two cooking racks
Temperature dials
Four programmable settings
Automatic shutoff