If you've spent even five minutes searching for a hamster cage, chances are you've happened upon some sort of Habitrail habitat.
This brand is well-known for their sleek and modern designs, with all sorts of tubes and crazy configurations to make your hamster look like he has his very own futuristic space station.
So why is this one on the bottom of our list?
Mainly because of its size.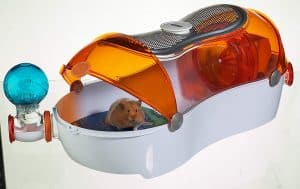 The Habitrail OVO Loft is the biggest Habitrail cage you can possibly get your hands on, and it's not a bad size for a dwarf hamster. But we think it's kind of cramped for a Syrian hamster if you use it all on its lonesome.
But there's a fix for that.
Just connect it to a few other Habitrail products, and now we're talkin'!
The OVO Loft really does make for the perfect homebase to connect to other Habitrail items, so your hamster can be the reigning monarch of their very own Habitrail kingdom.
As for the Loft itself?
It's a solid starter habitat.
We liked the fact that it has an extra deep tub, so you can add enough bedding for your hamster to happily burrow through. Plus, the built-in wheel is nice and quiet (although you'll need to get a bigger one for a Syrian hamster).
Customers who had experience with other Habitrail products said this one was definitely one of the easiest to clean. And at only two pounds, we found that it was super easy to lift and move around as needed.
As for the included, chewable cardboard maze?
Adorable. We loved it, and we think your ham will too. We don't think it will last hours like they suggest on the box, but still, it's a cute touch.
So, ultimately, here's the verdict.
If you're not willing to invest in the accessories, this cage probably isn't the one for you.
But...
We'd wholeheartedly recommend the Habitrail OVO Loft as an awesome starter piece to anybody who's looking to set up a really snazzy Habitrail hamster playground.
Features:
Includes wheel, water bottle, feeding bowl, and cardboard maze
Built to be sturdy and escape-proof
Deep tub for burrowing
Dimensions: 13 x 20 x 11 inches
Weight: 2 pounds