Like Batman in Gotham City, the Gotham Steel Ultimate 15-Piece Kitchen Set with Non-Stick Ti-Cerama Copper Coating has impressive strength and prowess–heating and culinary art in this case.
This cookware distributes heat evenly and quickly. Easy to clean and lightweight, it impresses most users with its nonstick surface, especially in the beginning.
A few people report the cookware's nonstick ability lasted only a month (or even a week!) or so. Many suggest cooking only with low heat and hand washing the cookware so as to maintain its nonstick coating.
Speaking of nonstick surfaces…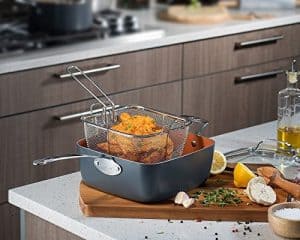 This set boasts a "Ti-Cerama" coating, which is ceramic reinforced with titanium.
We checked the website of the manufacturer Gotham Steel and found no mention of copper.
Any other negatives?
Users also report the interior coating flakes off, the side and lid handles get hot, and the cookware doesn't always work on induction stoves.
Truth in advertising, take 2…
Check out this infomercial, where an agile chef demonstrates cooking different recipes with easy-to-burn ingredients in pieces from the Gotham Steel Ultimate Kitchen Set with Non-Stick Ti-Cerama Copper Coating.
Some of this informercial's claims were disputed by users.
For example, the presenter and then the chef state Gotham cookware is scratch-proof, even with metal utensils and metal mixer blades.
Many people say this is not true.
Also, the chef boasts no oil or no butter is needed during cooking with the nonstick surface. Whereas several of our testers begrudgingly returned to using oil and butter to keep food (like eggs) from sticking.
Features
Includes 8.5" frying pan,10.25" frying pan with lid,1.5-quart pot with lid, 2.5-quart pot with lid, 5-quart pot with lid, aluminum steamer insert, 9.5" deep square pan with lid, fry basket, steam rack, and 9.5" shallow square pan
Non-stick Ti-Cerama (ceramic reinforced with titanium) surface
Dishwasher safe
Oven safe up to 500°F
PTFE-free, PFOA-free, and PFOS (perfluorooctyl sulfonate)-free
Return policy: 90-day money-back guarantee