Go exercise on the Goplus Magnetic Folding Rowing Machine–it has ten levels of magnetic resistance simply adjusted by a knob for any workout.
This sturdy indoor rower operates quietly and smoothly.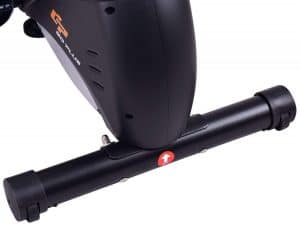 A padded seat glides along a 49"-long steel track for a rower pulling a non-slip handle at the end of an elastic cord attached to the magnetic resistance flywheel.
A few people wish for a longer track and a more comfortable seat.
Nonetheless...
Nearly everyone can agree the large LCD monitor is very readable and positioned well for visibility during exercise.
It tracks time, distance, speed, and calories burned. Also, the Goplus Magnetic Folding Rowing Machine is easy to assemble as well as to fold up for storage. This lightweight unit has built-in transport wheels for rolling it away.
Finally...
It has anti-slip pivoting pedals or footrests with adjustable Velcro straps. One reviewer feels the straps are not good quality and don't adjust enough to keep feet from falling off the pedals.
Overall, the Goplus Magnetic Folding Rowing Machine is a great addition to your home gym.
Features
Dimensions: 70" long x 21" wide x 19" high
Folded height: 49"
Seat size: 10" x 14"
Pedal size: 5.3" x 12"
Weight: 49 pounds
Maximum user weight capacity: 220 pounds
10 levels of magnetic resistance