If there ever was an underground air hockey table, this product would be the embodiment of that. Versatile, portable, and sporting cool graffiti tags - is it worth your money?
Let's start with the good stuff.
The unique thing about this product is obviously the design. While the first thing that anyone will observe is the graffiti, the playing field is also nice and minimalistic.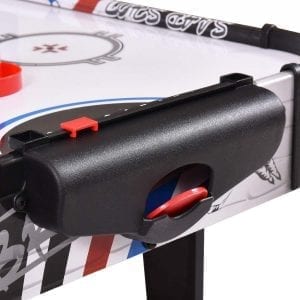 In terms of construction…
The Goplus table is generally made out of qualitative materials, and some laminated MDF on top. With that in mind, it's a tabletop - so durability is not this product's forte.
Being a tabletop, however, means it's portable and easy to set up.
To wrap the benefits part up,
We also want to mention the motor. Even if it's compact, the table prides itself with a powerful motor that's plugged in - not battery enabled. This ensures that the much-needed airflow is stable.
On the downside…
...there are a few issues we'd like to mention.
First of all, the small legs that stabilize this product on a regular table are made out of poor materials. As a result, a heated match can even end with the crack of a leg.
It should be fine for children, but adults won't have lots of fun with it.
To add to that,
You can place an electronic scoring system on the side. It sounds good, but the feature is pretty much useless since oftentimes it will not score all goals, so you'll still end up manually counting points.
Features:
42 in Tabletop air hockey table
Plug-in motor
Manual scoring