Easy to carry, easy to use and innovative.
If that sounds good, then the GolfBuddy GPS rangefinder might be right for you. It comes in a sweet array of designs, and it covers everything you might need to improve your game.
Battery life is a problem a lot of GPS finders have - it's one of the reasons people prefer a laser option, and it's a real bummer for your regular 18 holes match.
That will not be a problem with this device…
...since you get a battery lifetime of 14 hours. To be honest now, who's going to spend more than that at a golf course in a day?
Wondering what you'll get from the GolfBuddy?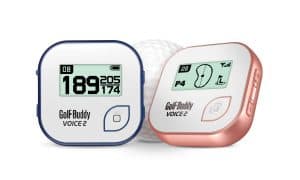 While a par 5 course will require more than just this finder, you'll get accurate and helpful distances right from the tee on a regular 3 or 4 par course.
That is because this finder measures distances to the back, front and middle of the green form your position in real-time.
On top of that,
You get a flyover view of the green with their dynamic technology, that measures the distance from your point to the hole. Note, however, the distance to the hole is only available while you're in the green.
The most awesome thing about this device, however, is the voice guidance.
We said earlier that we're not extremely keen on this technology, but the GolfBuddy pulls it off!
You get the option…
...for either a male or a female voice to guide you throughout the strikes, so lay back and comfortably choose a club while the friendly rangefinder informs you of the different distances you'll need to consider.
The problems we had with this device…
Should not be overlooked.
The main issue we found was durability.
Simply put, the Voice 2 is not built out of qualitative materials - granted, you can just keep it in your pocket so the risk of incidents is minimal.
But let's be honest, people are very innovative in the way they can drop something, so if you want something rugged and long-lasting maybe look somewhere else.
O a similar note,
The LCD display was faulty in some versions of the product. It just gradually stopped working, which is definitely something to avoid - yeah, the voice guidance is nice, but you should be able to operate a product at its full capacity.
To add insult to injury,
Golf Buddy refused to stand by their 1-year limited warranty in those cases, not even asking for the units to be sent back for inspection - they just assumed the buyer must have broken it somehow. Not nice!
Still sounds like a good fit? Check out the GolfBuddy in action!
Features:
GPS Rangefinder
Measures distances to the front, back, and center of the green
Varied designs