Well designed and engineered for adults, the Glion Dolly Foldable Lightweight Adult Electric Scooter appeals to a wide range of riders.
Figurative feedback on this model's performance includes:
"smooth as silk"
"like a flying carpet"
"as slow as a granny walking and as fast as a bicycle"
"engine purrs like a kitten"
"like a refined, sophisticated BMW touring bike" and not like a "yappy little Yamaha dirt bike."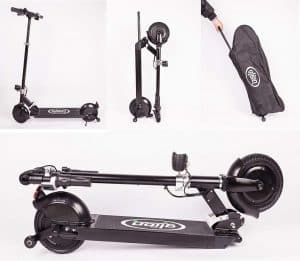 This scooter is solid and durable.
After using it for daily commutes across campus for two years, a happy owner states it's still going strong for urban transportation.
How's the power?
The battery life is good, with decent ride time and "juice."
One commuter we spoke too, Sutton, rides about one hour each way, each day.
Think that's impressive.?
Check out this:
She leaves home with a fully charged battery and arrives with a still decently charged battery.
The battery indicator/meter shows how much "juice" is left via the number of bars.
Many people think the indicator is too vague, wishing it displays percentages of battery power left.
All of our experts were sure to mention how they dislike the scooter's lack of a speedometer and odometer.
Nonetheless…
The battery certainly pulls riders' weights over inclines.
A 250-pound commuter, Sam, rides this scooter daily over a "legitimate hill" and enjoys the scooter's consistent climbs without stops or push assists.
Another 220-pound rider, Jackie, also says the scooter handles hills well.
What about the brakes?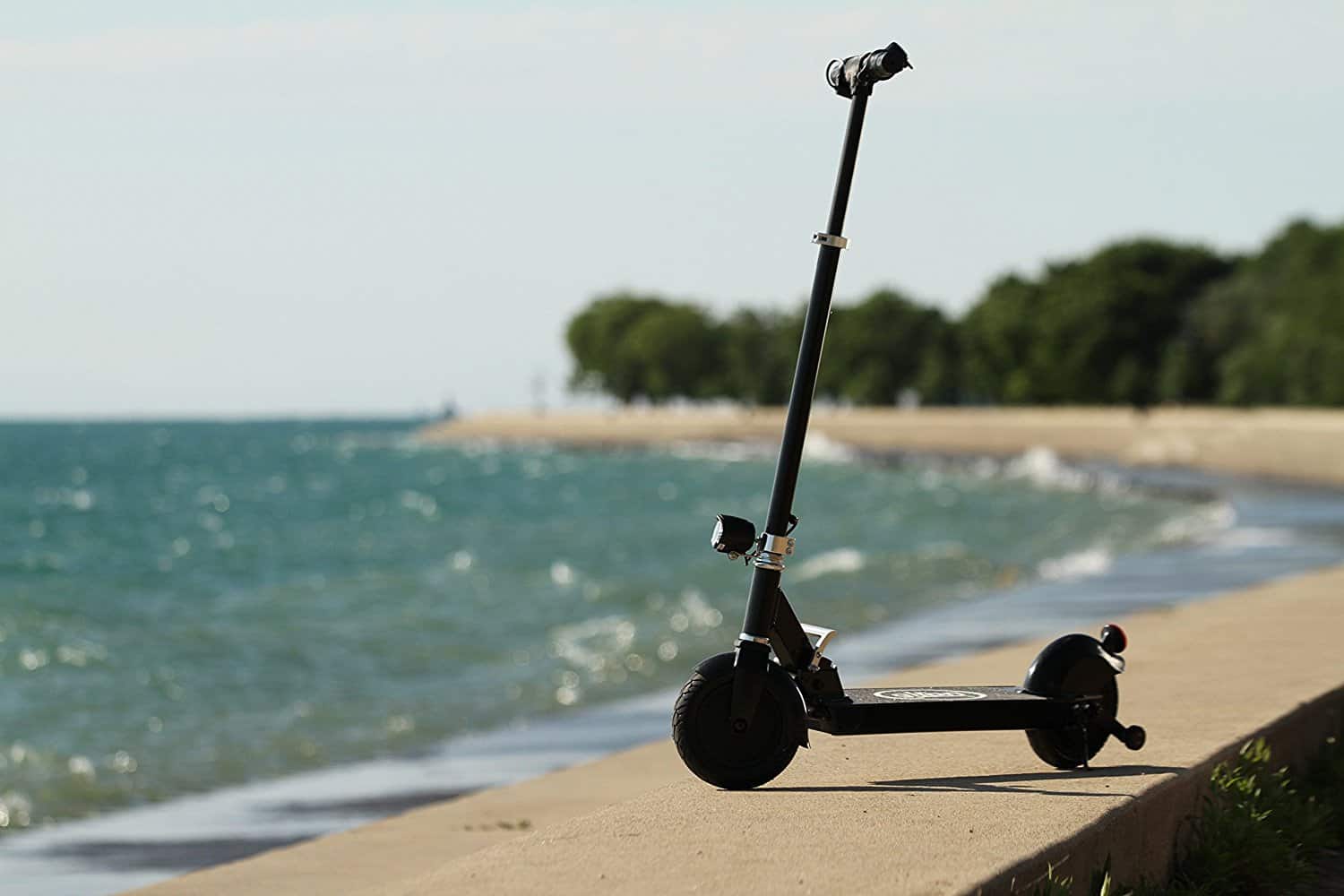 The Glion Dolly Foldable Lightweight Adult Electric Scooter's electromagnetic regenerative brakes are steady for some and jerky for others.
Many riders would feel more secure with an additional mechanical/manual brake for back-up.
Several people note the brake is good for adjusting speed going around corners, but not for stopping quickly to avoid hitting a person suddenly walking into the scooter's path.
Feel this:
The Glion Dolly Foldable Lightweight Adult Electric Scooter doesn't have a suspension, just large tires to absorb little bumps and cracks in the road.
Forget rough terrain, even with small branches or rocks, the ride is much rougher and less stable.
Guess what?
Foldable and portable, the scooter has a unique pull handle dolly and wheels that allow users to stand it up and roll it like luggage.
People love this convenient feature.
Less convenient is the position of the On/Off power button that's easily accidentally pushed when the scooter is folded.
One last note...
Riders describe the manufacturer's customer service as "off the charts amazing," "spectacular," "phenomenal," "outstanding" and more.
Watch this video of a new owner's demonstration and review.
Features
Weight: 28 pounds
Dimensions:  36" x 16" x 8" (92cm x 20cm x 30cm)
Maximum rider weight: 255 pounds (115 kilograms)
Motor: 250-watt hub (in rear wheel)
Battery: 36-volt, 6.6 Ah, lithium-ion
Battery charge time: two hours (75%), 3½ hours (100%)
Battery charge cycles: 1000+ cycles (three to five years)
Range: 15 miles
Maximum speed: 15 mph
Brakes: anti-lock electronic
Tires: 8"-wide, never-flat
Warranty: for 12 months or 1,000 miles (whichever comes first)