For the world traveler who wants the freedom to convert voltage with the press of a button, the GJT 1875W Travel Converter Adapter Combo couldn't be a better fit.
And speaking of fit, this one is a truly universal adapter: it works in over 150 countries, with three different plug configurations to suit nearly every destination.
We were curious as to how exactly the GJT manages to pull off working as a converter and an adapter all in one little device.
But turns out it's pretty simple.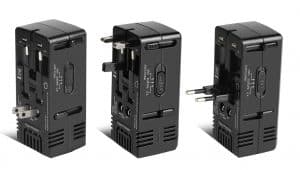 You just have to press a button to switch from plain old travel adapter mode to voltage converter mode.
The converter works to bring the typical overseas 220 to 240 volts down to a US device-friendly 100 to 120 volts.
So this little guy is a good choice for stuff like hair dryers, or any older devices you might have that missed out on the whole dual-voltage upgrade thing.
We loved the built-in safety features, including a built-in fuse and surge protector to protect your devices from any kind of damage caused by a sudden power surge.
The one catch?
Although it can handle a mechanically controlled appliance just fine (like that hair dryer we keep mentioning), you can't count on the GJT for electronic-controlled appliances.
What does that mean, exactly?
Basically, anything that has a physical switch is good. Anything that you press a button for is, well, not so good. You'll need to invest in a more heavy-duty converter for that sort of thing.
And make sure to check the label on that hair dryer, because the GJT isn't a good option for anything that uses more than 1875 watts.
The GJT travel adapter and converter also has only one AC outlet, and no USB ports at all, so if you need to be charging multiple devices at once then you're going to want to look elsewhere.
Otherwise, it's a solid choice, especially if you're going to be traveling to all sorts of different countries where you may need to convert voltage. It weighs in at just over six ounces, so it's not too much bulk to add to your luggage.
And honestly?
You just can't beat getting a converter and adapter all in one, especially in such a conveniently compact package.
Want to make sure your fancy new adapter-converter combo stays safe and sound inside your luggage?
We know the perfect solution.
The GJT has an 18-month warranty.
Dimensions: 4.3 x 1.8 x 1.8 inches
Weight: 6.1 ounces
Features:
Switches to a converter with the press of a button
Universal capability
Built-in safety measures to protect against power surges