While you may see this gem as a decorative pillow, the true power and finesse it combines is truly surprising. The Gideon Shiatsu Deep Kneading Massage Pillow is wonderful for those seeking an authentic massage therapy experience. But I'm getting ahead of myself.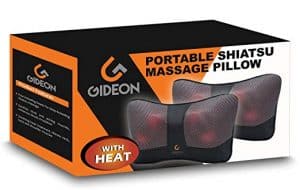 While the product is quite powerful, it also features mild & gentle treatment options, with 4 rotating nods and a heating option available. Besides this, the controls are located on the cord, making it easier to press the buttons you want to reach. Once pressed, the commands dictate whether the balls should move clockwise or counterclockwise, ensuring a complete massage experience.
One clear benefit of this massager is the way it reacts to your comfort. If you're tense and press against it, it will decrease the intensity of the massage, but if you're relaxed, it will increase the power, reaching deep inside muscle tissue and getting you rid of aches. Other benefits include the ease of use, with clear and accessible controls, as well as versatility.
The downside that comes to mind is the fact that the design is a bit bulky, and not spread out, but you can get all the benefits of neck massage nonetheless.
Our focus group had a few people that also complained about the bulky design, but largely (which means over 95%) said they would recommend it to a friend and the reviews we had were all positive. Our test indicates that (besides being very relaxing) all the features work as advertised. We got surprised by the bulky design too, that's why we called it the "sofa massager" (you can't blame us, it really looks like a sofa pillow), but this feature is definitely not deal-breaking and we loved using it.
Features
8 Massage balls.
Awesome Smart technology.
Heat Therapy.
(Sofa) Pillow Design.