The best word to describe this massager is "round shapes". From the balls, the motions, and even overall design, the Gideon Shiatsu Deep Kneading Massager has a round aesthetic. Regardless of build, let's  see how this machine fares against our tests, and let's delve a bit deeper into its features.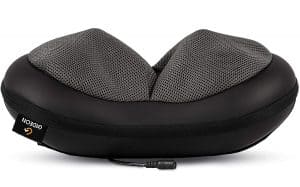 This Gideon Massager, with 8 3D rotating balls, a heating function, easy to use controls, and a compact build makes sure that relieving neck pain is a comfortable and relaxing activity. Going further than the market norm, this product features an entire heat therapy programme, being generally constructed to emulate the real massage experience, and we believe it does that pretty well.
The main plus of this device is the heat therapy function, but if we talk about benefits we can also mention the compact design and easy to understand and use controls. The downsides include a pretty large build, weighing in at 4 pounds, but providing no handles.
But that's not enough to determine if it's a good buy or not, so let's check the results from our testing.
Our first impression when we received the product was that it was much larger than expected, but this is not a bad thing since it packs a big punch and ensures deep tissue penetration.
The focus group we interviewed was satisfied with the product, with over 90% of them saying they would recommend it to a friend.
The only thing some people complained about was the power. Some found it a bit too strong for them. In turn, we recommend this neck massager to people that have prior experience with massage and understand the process.
Features
8 Massage balls
Heat Therapy
3D Massage.
Pillow Design