Genani's Ultrasonic Cool Mist Humidifier comes with a full-range of features including an auto shut off mechanism, ultra-quiet technology, and a 360-degree nozzle.
You might be wondering,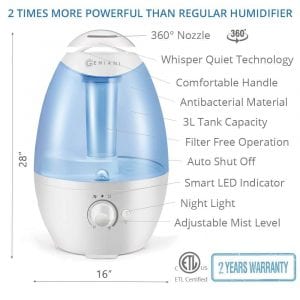 All of these humidifiers have the same features.
How did Genani's Cool Mist Humidifier make it to the number two on our list?
Genani's Cool Mist Humidifier has one important feature that gives it an edge over the other products; it has a filter-free design that will ultimately save you money over time.
This humidifier is perfect for moms that are looking for a maintenance-free humidifier that has all the essential features. It may not have as many gadgets and gizmos as the other items on this list, but having a filter-free design puts it ahead of the other products.
Features:
Filter-free design
Built-in nightlight
Automatic shut-off
360-degree nozzle