The GearWrench 8940 Ratcheting screwdriver set is well worth the money for anyone looking for a versatility in his or her tools. This 40-piece set comes with thirty drive bits consisting of both flat and Phillip type tips, three different handle types (standard, T-shaped and stubby), two-socket driver shafts, two magnetic bit driver shafts, a flexible socket driver shaft and an adapter for joining different driver shafts.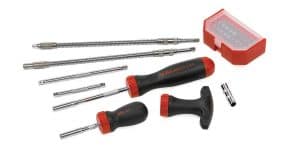 We found the T-handle great for working on devices with many Torx and Allen screws such as a motorbike. The stubby handle allows you to utilize the longer shafts to form a very useful screwdriver. We found the large handle to be too huge for most household tasks, but it's still a great addition to have.
The screwdrivers are fitted with fine tooth ratcheting technology and it provides more strength and a smooth ratcheting arc. For easy grip and high torque, the handles are contoured and feature a dual durometer design.
When working with this set, you'll notice most of the drivers are on the heavy side considering the size. This is not such a bad thing, especially because the heavier the devices, the higher the quality.
However…
It does not apply in this case since some of the shafts can get twisted easily. In addition, the stubby ratchet handle is a bit frustrating to use since its direction can be easily changed accidentally. For those finding it hard to pick the specific bits from the case, use the magnetized sockets over the bit and they will come off as easily as magic.
Features
Ratcheting screwdriver set with forty pieces
Easy to use thanks to the fine-tooth ratcheting technology
Various interchangeable shafts allow easy access to any screw head
Contoured handles improve grip and reduce fatigue
High-quality blow-molded case