If you prefer your GPS tracker to look more like a smartphone than a walkie-talkie, we've got just the thing for you. It's called the Garmin Oregon 600, and it's one of the more configurable options we've come across.The Garmin Oregon 600 is akin to an older Android smartphone.
It has a 3-inch panel that uses transflective tech and has a resolution of 240 x 400. Needless to say, it's easy to read in the shade or direct sunlight.
But that's not all…
This GPS tracker is also "glove friendly" so there's no need to pull your shooting gloves off to use the multi-touch display.
You can switch from portrait to landscape mode in seconds, and while you can't make any phone calls, there is a picture viewer built in.
Keep in mind; this is the base model. One variant throws a camera into the mix so you can send photos of your kill.
In regards to the build quality...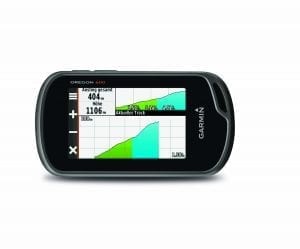 Our experts noted, nothing particularly stands out aside from the hardened display.
It has thick bezels and only two buttons on the side, so you'll use the touchscreen for navigation.
It's small at 2.4" x 4.5" x 1.3" and tips the scale at 7.4 ounces with two AA batteries installed. It's not sleek, but it doesn't look bad either – utilitarian is a good word to describe its style.
Whether you're heading out into the backwoods in the South or to another continent for big game, the Oregon 600 will track your location.
It has the same dual-band setup as most top-tier GPS trackers, so you'll get GPS and GLONASS positioning to go along with Bluetooth.
ANT is an option as well, and there is plenty of storage with up to 1.5GB available on the base model.
Globetrotters will love the storage capacity of this device considering you can load up as many maps as you'd like.
Looking for a system large track log?
This one has just that with 10,000 points and 200 saved tracks.
Between that and the 4000 waypoints, you should never run out of room. If you do think things might get tight, the company has a solution for that.
Variety is the Spice of Life…
The base model of the Oregon 600 is solid, but there are several variants available if you want something more.
The coolest includes a built-in digital camera and lets you install up to 3GB worth of maps.
A 4GB variant throws in Topographic maps to go along with the 8MP camera as well.
All photos are geotagged accordingly, and you can even share your digital journey online through Garmin Adventures.
Garmin packed plenty of features into the Oregon 600, but they kept things light in the box.
You'll get a 1-year warranty, a NiMH battery pack, an AC adapter and USB cable along with a user manual.
There's a carabiner clip included, although you can opt for an official quick release lanyard if you prefer something different.
Features
HotFix satellite prediction
Dual battery system
Multi-touch display
Dual orientation
Advanced waypoint management