While every GPS tracker will help you keep tabs on your location and set waypoints, not all double as a personal communicator.
That's exactly what you'll get from the Garmin Inreach Explorer+ as its half satellite phone, half tracker and packed full of high-tech features.
Before we get to the good stuff, we want to get one thing out of the way.
Do we have your attention?
This device needs satellite access for you to take full advantage of its capabilities.
It uses the Iridium satellite network, which gives you global coverage from an array of over 60 satellites. While you can't make a phone call, you can send text messages and get help if things go south on your hunt.
When you find yourself in times of trouble…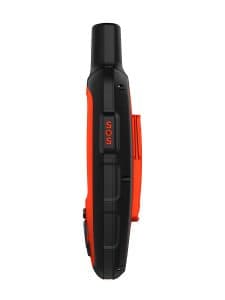 Mother Mary may be the answer for some, but an S.O.S. button is your best bet against disaster in the woods or mountains.
Accidents happen, and a normal GPS tracker won't do you much good in these situations.
Want maximum safety?
The big SOS button on this baby will send a signal to the proper authorities which in turns send rescue teams your way.
Even if you're not concerned about mishaps in the wilds, you will appreciate the mapping system on the Inreach+.
It comes with preloaded DeLorme TOPO maps, but that's just the tip of the iceberg. When paired with a mobile, you can access the Earthmate app which opens things up considerably.
From here you'll get access to aerial imagery, maps, and other useful goodies.
Whether you're driving or walking, the GPS routing feature is a huge perk.
Are there there other perks?
The optional weather forecast got a lot of rave reviews from our testers.
Our experts agreed…
The display is middle of the pack at 2.3-inches.
But, it is bright and colorful at 200 x 265.
You can't tap it with your finger, but navigation is an area where many users feel the Explorer+ performs quite well.
Messaging can take some getting used to, but the ability to communicate globally is worth the learning curve.
You can find a bit more about how the unit operates through the online user's manual.
We wouldn't advise you to drive any tent stakes with the Explorer+, but it will hold up well in harsh environments.
(As our rugged products tested so thoroughly enjoyed doing.)
It has the popular IPX7 tag and a tough shell that's sealed against most elements.
It also has a sealed battery which is capable of outliving others by a wide margin according to our tests.
Want to see how the Inreach Explorer+ does in direct sunlight?
Prepare to be impressed…
This GPS communicator will give you a whopping 30-days of juice in power saving mode.
That's a full month--more than enough time for someone to find your location if you wander off looking for big game.
In tracking mode, you'll get 100 hours.
Simply put, it's hard to argue against the battery life.
On the downside, you can't replace the batteries in the field. A solar charger may be in order for extended adventures.
At 7.5 ounces, the Garmin Explorer+ is of average size and weight. It comes with a 1-year warranty, a USB cable, user's guide, and a carabiner clip.
The fact you'll need a subscription will be a cause of concern for some. Although we feel it's the only way to go if you want safety at the forefront and hunt in remote locations.
Features
500 waypoints
Global coverage with the Iridium Network
Two-way messaging
IPX7
MapShare