The Garmin GPSMAP 276Cx is one of the company's flagship devices and a GPS unit that puts others to shame in one area. More on that in a second.
First, we want to say this: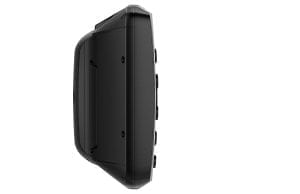 If you're looking for something discreet, you will want to look elsewhere. This tracker is the size of a miniature tablet.
But…
It has more features than any other model on our list.
Size is where we're going to start with this one as the 276Cx measures 7.5" x 3.7" x 1.7" and weighs close to a pound.
It's not what we would consider pocket-friendly. Though it's far from unwieldy and is easy to mount on an ATV.
That's a plus for hunters, and so is the IPX7 waterproof rating.
While there is some black border, we're pleased to say most of the front is taken up by a colorful 5-inch display.
Garmin opted for a WVGA panel in the 276Cx which has a resolution of 800 x 480 pixels.
It's bright under direct sunlight and provides far more detail on shaded relief maps than other trackers in this class.
It manages to do this without taking a toll on the battery life. Unfortunately, that comes at a cost as it's a regular panel, not a multi-touch display.
While that will be a disappointment to some, Garmin makes up for that with the controls scheme.
A directional pad takes care of navigation while a series of buttons handle menus, zooming, and various other functions.
Despite its high-tech nature, we don't think anyone will have a problem using the 276Cx.
Like some units, the exposed power button can be tricky. One user found an interesting solution for this particular problem…
You'll get 6GB of usable storage on this tracker out of the box, but you can kick that number up with a microSD card.
It's compatible with all the major mapping systems and has a shaded relief worldwide basemap preinstalled.
A 1-year subscription to BirdsEye is included as well.
It works with GPS and GLONASS although that's not what initially grabbed our attention with this one.
Stay Connected…
Many trackers allow you to connect to other devices, but most require a USB cable.
Not the GPSMAP 276Cx.
It has Bluetooth and ANT+ built in.
It also has Wi-Fi.
Something you won't find on any other unit on our list.
It's definitely a handy feature to have on hand. But, one that may not be as useful to some as it all comes down to your needs in the end.
The one area where this tracker is similar to the rest is with the basic features.
It can give you information on the Sun and Moon or game in your area.
It can also hold up to 10,000 waypoints and 250 routes like the rest of the pack.
You'll get a choice when it comes to power as well considering the 276Cx can use AA batteries or a rechargeable power pack.
Aside from its size, the Garmin GPSMAP 276Cx is a fine option if you want highly detailed maps and aren't shopping in the budget range.
It's not cheap but packs a punch, and we love the fact it has Wi-Fi.
There are plenty of goodies included as well with a rechargeable battery pack, USB cable, powered mounting bracket, user manual, and a marine bail mount.
The latter is good in case you decide to hunt Moby Dick instead of deer.
Features
8GB of storage
16 hours of battery life
Powered mounting bracket
MicroSD slot