After working in the garden or yard, do you ever wish you could roll up and put away the hose without bending, kneeling, or cranking a handle? People have tried the Garden Power Foot Crank Powered Hose Reel with mixed results. Some love the foot crank and find it easy to use. Simply step on a pedal to start the retraction of the included 75'-long 5/8"-diameter garden hose. A power track facilitates even hose retraction.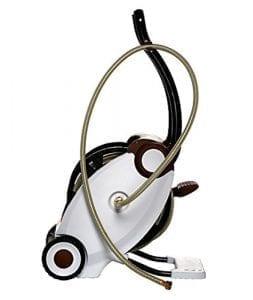 On the other hand…
Other users thought the foot crank did not work as well as expected.
The Garden Power Foot Crank Powered Hose Reel is balanced on two sturdy wheels and has a bronze base with a low center of gravity to prevent tipping. Even more convenient, this reel folds for easy storage. One user commented that this garden hose reel unit does not take up too much room during use or in storage. We certainly agree.
Take a quick peek:
This video shows how easy this garden hose reel is to move and use.
Features
Includes 75'-long 5/8"-diameter hose
Dimensions: 15" x 37" x 22
Weight: 24.5 pounds
One-year limited warranty (new); three-month limited warranty (refurbished)
Assembly required