The problem with a lot of inexpensive drum kits is that they're cheaply built. This is great for saving on costs, but not great if you really plan to learn the drums. This full-sized set from Gammon, on the other hand, is an affordable option that has the durability for daily use and a professional set-up so you can learn the right technique.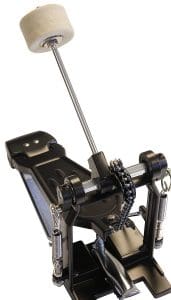 You'll get everything you need to start playing right out of the box when you order this kit. This includes all the stands and pedals for the drums, along with a stool for you to sit on, and a set of decent sticks. You'll also get all the basic tones you need for playing in most styles, with a kick drum, a snare drum, three toms, a ride cymbal, and a hi-hat.
However...
This kit is designed for learning and practice, not on-stage performance. The cymbals sound thin compared to professional options, but these are easily upgraded if you want a richer tone quality. The drums themselves sound surprisingly good given the price and don't require much tuning out of the box—perfect for the beginning player. If you're looking for an affordable option for home play, this is an excellent choice.
Specs at a glance:
Kick drum: 22"X14" (12-lug)
Snare: 5 ½"X14"
Toms: 16"X16" floor tom; 12"X10" and 13"X10" mounted toms
Cymbals: 12" hi-hat, 14" ride cymbal
Whole kit weight: 82 pounds
Color options: Blue or black