Our first impression of this set?
Right away, you can tell that Gamma Sports Needle Pickleball Paddles aren't ordinary pickleball paddles.
With a length of 16 5/8", this model is only slightly longer than most other models, but this little bit reaps major benefits. Players rave about its elongated design that gives them extra reach when stretching to hit the ball and making shots.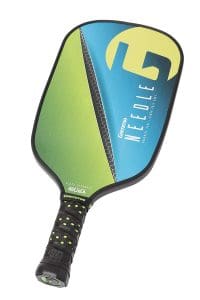 Even better
This paddle's protracted design still maintains a large and "generous" sweet spot in the center of the paddle's face and a suitable width for blocking. Many people describe Gamma Sports Needle Pickleball Paddles as lightweight and "very evenly balanced." In fact, this model was engineered to prevent a top-heavy feel.
But that's not all
With its finely textured graphite face, this paddle generates excellent spin and accuracy in shot placement. Picklers love its balance of power for hard shots with excellent control for soft hits. Its honeycomb grip provides traction and comfort.
Here's something really interesting...
In our research, we noticed most feedback was from advanced players, some at the 4.0 skill level (out of a scale of 2.0 to 5.0, from beginner to expert). We figure they probably know what they're talking about, so we trust their recommendation of Gamma Sports Needle Pickleball Paddles for all skill levels, from novice to experienced. One player notes this model is just right for singles games.
But that's not the best thing about these paddles...
We did not find a single negative review of Gamma Sports Needle Pickleball Paddles!
For an introduction to this much-lauded paddle, watch this video.
Features
Weight: approximately 7.6 ounces
Paddle width: 7 1/8"
Paddle length: 16 5/8"
Paddle core: Sensa poly
Paddle face: graphite
Honeycomb grip
Grip circumference: 4 1/8"
Grip length: 4 ¼"