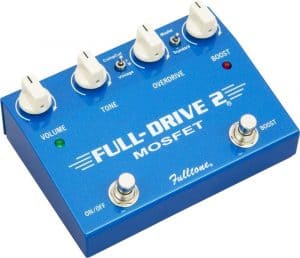 Here's another option from Fulltone that gives you the same reliable high craftsmanship but with a different overdrive color. As it turns out, this pedal is the perfect choice for metal, hard rock, and any other genre that calls for massive overdrive.
The first difference you'll notice with the Fulldrive is the size. It's a big pedal, but with good reason. Along with standard effect controls, there's an adjustable Boost mode and toggles for activating MOSFET overdrive or changing the clipping style.
If you're looking for a more subtle effect, this might not be your best choice. The Fulldrive2 can do it, but it's at its best when you let it scream. If you want aggressive overdrive, look no further than the Fulldrive2.
Features:
Controls: Volume, tone, overdrive, and boost knobs; mode and style toggles
Dimensions: 7" X 4.5" X 3.5"
Weight: 1.9 pounds
Power: 9-18V AC adapter
5-year Limited Warranty