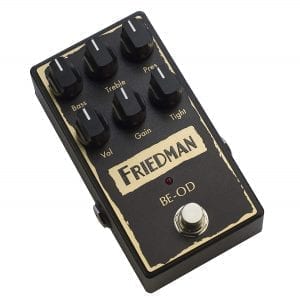 The overdrive from a vintage tube amp has a very distinctive sound. Getting that sound used to mean spending thousands of dollars, but no more thanks to amp overdrive emulation pedals like the Friedman BE-OD. It's based on the company's classic BE-100 amplifier and gives you the same tight distortion and full bass in a smaller (and much more affordable) package.
The BE-OD gives you twice the tone-shaping options that you'll find on most overdrive pedals. This is a good thing if you like having complete control over your sound, though it does mean spending a bit more time with the pedal to figure out what all it can do.
This definitely isn't the cheapest item on the list. A lot of players balk at the idea of spending two hundred bucks on an overdrive pedal—until they hear what all it can do. If you want the big, bold tube overdrive of a vintage amp, the Friedman BE-OD is worth the investment.
Features:
Controls: Bass, treble, presence, volume, gain, tight
Dimensions: 7" X 4" X 4"
Weight: 1 pound
Power: 9V or 18V AC adapter (not included)
True bypass