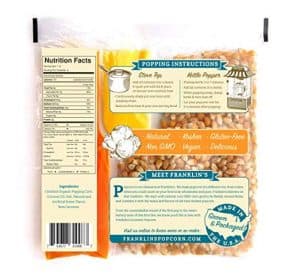 Our second prepackaged solution is a little healthier than our first. Franklin's Gourmet Movie Theater Popcorn kernels are all-natural, and the oil is just as clean as those organic kernels in each vacuum sealed pack.
If you want high-quality popcorn and can get by with a few small caveats, look no further than Franklin's. It's another clean non-GMO kernel grown in Iowa that's been certified organic. Each package comes with 100% pure coconut oil as well which is gluten-free and save to eat whether you're a vegan, need kosher food or have peanut allergies. It's also nice to know they listen to their customers as well considering they removed artificial coloring a few years back due to feedback.
Franklin's isn't for the faint of heart if price is a concern as there are cheaper kernels available – these are on the high end. That said, we can attest to their tastiness, and it's hard to argue with thousands of pleased customers as well. These popcorn pouches are sized from 2 to 8 ounces and available in packs of 10 and 24.
Features
Pre-measured packs
Certified organic
100% coconut oil