This classic product is always an awesome gift. Bestazy loves toys that get children moving, and this is one of the most active toys around.
This is also a really outstanding value option. The fun per dollar on this product is extremely high when compared to the more expensive toys on this list.
The Flybar Master Pogo Stick also incorporates some new tricks into the old favorite.
For instance, it's safer than most.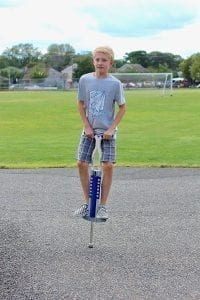 This is one of the best pogo sticks out there for beginners and children because it leaves much less room for injury.
The foam construction means that your kid will never end up landing on hard metal bars if they fall.
This pogo stick also adds extra-stick, fold-down footpads which are great for balance and storing.
The base is also designed to be a bit wider than average. This creates a larger point of contact with the ground, which Bestazy found in tests to add an extra level of balance.
Don't worry, it fits most children.
The Flybar Master Pogo Stick is made for anyone ages nine and up. It will work for anyone 80 to 160 pounds.
From the bars to the pegs it's thirty inches long. It has an overall length of 41 inches.
This is a deceptively long-living toy. Although it does really only do one thing, there's a lot to get better at. Children will have fun trying to beat each others high-scores and top each others tricks. You should expect many hours of play-time from this product.
The thing is...
The foam does worry Bestazy a bit. With an active product like this, that is going to be falling a lot, the foam may end up coming off.
This product is covered by a one-year limited warranty.
Features
Foam construction
Foldable foot pads
Built to be first pogostick