The Fluke 87 V digital multimeter is something a professional or homeowner could make use of. It offers a variety of capabilities for any type of electrical application--light or heavy-duty.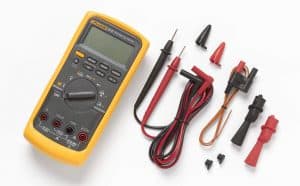 You'll be getting readings in a matter of seconds as this device is designed to provide accurate electrical measurements of voltage and frequency with true RMS readings included. The multimeter is picked as one of our best as it is safety rated to CAT III 1000V and CAT IV 600V and has a dual range of automatic and manual readings.
Fluke boasts this multimeter as an ideal device to work in high operating temperatures or load work areas where it can often be difficult to get true readings. The device was engineered to catch glitches and spikes as short as 250 μs.
Like all Fluke devices, the 87 V model features a rugged design that's compact and easy-to-use. It also includes a magnet hangar to allow for handsfree use. In fact, you'll find this multimeter comes with everything you need to get started testing and measuring electrical wires and power sources including test leads, temperature probe, alligator clips, holster, and a 9V battery. Another reason we ranked it so well on our list of best multimeters.
Features
CAT III 1000V, CAT IV 600V safety rated
Dual resolution display
Measures up to 1000 VAC and DC
Fast 250 µS readings
Voltage and frequency measurements
Magnetic hanger
True RMS voltage readings
Lifetime warranty