You'll find the Fluke 115 multimeter an ideal testing and measuring device for professional use by electricians. This device allows you to test continuity, frequency, capacitance, and diodes and provides a range of audible warnings and alerts that make it easy to use.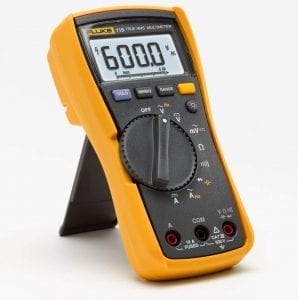 The compact, yet rugged design of the multimeter allows it to be used in a variety of applications without worrying about damage or wear. It's temperature resistant from -10 to 60°C and is intuitive in is development.
The Fluke 115 was created to provide true RMS readings and is operable with 200ma to 1A measurements. It includes a 4mm silicone test lead set, a user manual, holster, and 9V battery, allowing it to be used right out the package. You'll also find this device easy to read as it features a large, LED-backlit display.
Because this device offers a variety of functions and is heavy-duty in its design, it's considered one of our best multimeters, but it may be overkill at the price for a homeowner with minimal use for the unit.
Features
True RMS measurements
LED display
Measures continuity, frequency, capacitance, and diode test
Cat III Safety rated
Ready for use
Overload protection
Long life
Holster and batteries included