If you're looking for the best multimeter for advanced electrical testing and measuring functions, you'll want to stop your search with the FLIR IM75-NIST. This high-end device does it all with acute accuracy and reliability.
The multimeter features an array of electrical testing and diagnosis features including AC and DC voltage and current readings, VFD mode for pump and motor measurement, advanced insulation modes, and true RMS readings.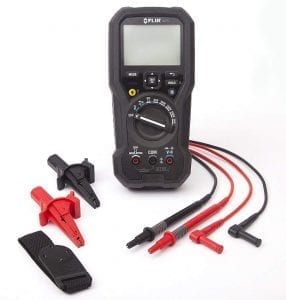 This device is designed to allow you to view readings on your smartphone and is iOS and Android compatible. The display of the multimeter is highly visible as it features a LED display with a backlight and large illumination. It has digits that display up to five numbers for even more accuracy.
You can read this multimeter in analog or digital and recall up to 99 previous readings. The device features a rugged design and is covered by a limited lifetime warranty. You'll find this multimeter is really geared toward the professional electrical contractor that has industrial jobs and a need for advanced measuring features.
As the highest priced multimeter on our list, the FLIR IM75-NIST is quite an investment, but it offers plenty of capabilities you can't find in another multimeter model. Given the price, however, it's not recommended for homeowners.
Features
Remote viewings of readings
iOS and Android compatible
True RMS reading to 1000V range
VFD mode
Advanced insulation modes
AC and DV voltage and current readings
Thermocouple probe included
Five-digit display
Analog or digital readings
Recall feature
Rated to CAT IV-600V and CAT III-1000V