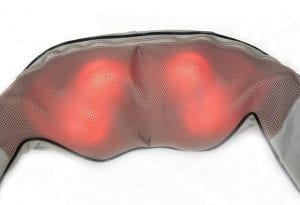 In a world of black & grey massagers, this beige relief was surely something to look for, with a leisure design and a stand-out color. Just make sure you don't get stains on it, as we had a busy day trying to clean one of these up.
The main, obvious feature is the striking color of beige. But don't think the designers of this massager stopped at an attractive aesthetic, this machine is powerful, with 8 kneading rollers, 2 massage directions, a heating option and an auto-shutoff feature.
The FIVE S surely wins the color race when it comes to neck massagers, but advantages include simple controls and a compact design.
On the downside, there's quite a lack of customizability, but you can get a qualitative massage nonetheless.
Down in the lab, both our experts and our focus group loved the Beige twist, but beyond that, we found that this machine is not as durable as it's counterparts.
By durable, we mean withstanding impact, because we broke a FIVE S with our rough tests. However, if you're cautious you should have no problem.
95% of the people we interviewed said they would recommend this machine to a friend, and 100% expressed love to the cool aesthetic.
Features
8 Massage nodes
2 Massage modes
Heat function
Special beige design.