If you're looking for an elliptical that has most of the bells and whistles of the fancier models without the accompanying price tag, the Air Walker X1 is your best bet.
The Air Walker is as light and comfortable as the name suggests, with some pretty awesome extra features that pushed it to the top of our list.
Here's what makes it really stand out:

Most of the ellipticals on our list come along with personal fitness monitors, similar to the heart pulse sensors and distance trackers you'll find on this model. Some of them also include handlebars for an upper-body workout.
But…
The Air Walker X1 is the only one that also allows you to move the pedals in multiple directions, opening up a whole new level of leg-strengthening possibilities.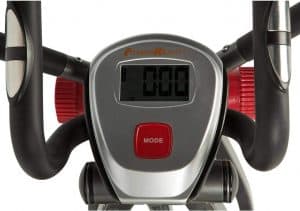 Basically, it does exactly what a good elliptical should.
For starters, it lets you get in a great aerobic workout without putting stress on your joints. That bonus of being able to move your legs side-to-side means you're getting more out of the machine than you would otherwise, and the fitness tracking feature is a nice touch.
And with a price leaning toward the lower end of the spectrum, we felt that the Air Walker X1 offered a truly impressive value for your money.
Is there a warranty?
You betcha.
It comes with a 1-year limited warranty on the frame and 90 days on any other components, with more information available in the user manual.
And don't forget to account for these important details when you're deciding if this is the right elliptical for you.
Weight & Dimensions: 34 inch L x 20 inch W x 52 inch H; 45 pounds
Stride Length: 36"
Weight Limit: 225 pounds
Resistance: None
Features:
LCD monitor shows your heart rate, distance, and calories burned
Flexible pedals move sideways so you can do a wider variety of exercises
Folds up easily for storage
Simple to assemble right out of the box
Take a look at the video below to see this bad boy in action.