This Fisher-Price Rainforest Jumperoo is a great baby jumper for children who can hold their head up on their own. While doing our research, we've found that the vast majority of users (and babies) are extremely satisfied with this jumper.
With its sturdy base and easy assembly, this baby jumper is a great choice for people who want simplicity and safety. This jumper is portable and it doesn't require a doorway or other equipment. The assembly also doesn't require tools (you can download the instruction manual here) and the height can be adjusted for a custom fit.
It gets better: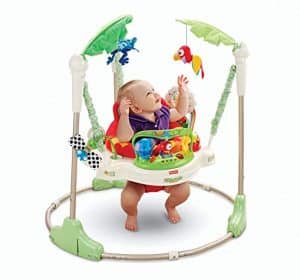 The Fisher-Price Rainforest Jumperoo keeps babies stimulated with a variety of features. It has toys in five different locations, so your baby has fun wherever they turn or look. There's an overhead canopy with plushies and leaves, a roller ball, drums, and piano.
The 360-degree rotating seat allows the baby to access all the toys with ease. This jumper also promotes comfort and safety with its soft toys and spring covers that keep your baby from having their fingers pinched. And if there are any problems, the Fisher-Price Rainforest Jumperoo is covered by a warranty.
The only big downsides we found while researching this jumper is that it's quite bulky and not foldable. The main complaint users have is that the jumper can't be easily stored. It also required batteries which aren't included in the package.
Features:
Dimensions: 32 x 32 x 37 inches
Weight: 18 pounds
Weight limitation: 25 pounds
Suitable for children who can hold their head up unassisted
Sturdy base
Stimulating lights, music, and sounds
Toys at 5 locations
Soft-sided toy bar
Overhead canopy
Squirrel roller ball and 2 animal spinners
Toy piano
Toy drum
360-degree rotating seat
Height adjustment
Portable
Simple to assemble
Powered by 3 AA batteries (not included)