Fisher-Price is almost synonymous with baby care today.
If you want proof of that, look no further than our list today.
It features three Fisher-Price entries.
With all the renown, is the Ocean Wonders tub as promising as our first entry?
Let's find out.
What you can first appreciate about this product…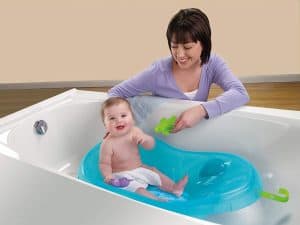 Is the sling design.
Slings are not uncommon in baby tubs, but this one is stuffed with padding in the upper section. This gives your little one a comfortable place to rest their head or neck during bath time.
To sweeten the deal, Fisher-Price also made the sling (and tub) out of ergonomic materials.
In terms of baby comfort, it's definitely a good choice.
If you look at this tub a little closer,
You'll also notice it has a basin design--a plus in the versatility department.
Furthermore, the product is built to grow with your baby.
The sling has adjustable sizes. Once your little one is too big for it, you can just remove that part and count on the baby stopper.
What about accessories?
The product comes equipped with a temperature guide, letting you know what temperature is right for bath time, and when.
Another huge benefit for the parents is the hook you can use to hang the basin after bath time. Our product testers unanimously claimed it makes it so much more hassle-free.
Plus, there are two thematic tub toys, perfect to keep your baby occupied while you do the scrubbing and rinsing.
Sure, you could get some on your own, but the fact they're in the pack proves how much thought has been put into developing this product.
So where do the ocean wonders stop?
We are yet to see the perfect product, and this tub's greatest downside is the plastic.
The tub looks nice and it's easy to use, but the main body is made out of (arguably cheap) plastic, which creates a durability risk if not handled properly.
Another issue...
It's marketed as an in-sink tub as well. While some products on this list can stand on their own, and fit in a sink, the sizes on this one make it hard to use in most sinks.
Don't count on that versatility unless you've got a single, spacious sink.
If you're willing to live with those issues, you can learn more about this product by checking out the Baby Ninja's Dad review of the product, over here. Or, browse the user Manual here.
Features:
Basin bath tub
Made of plastic
Innovative sling design