This Fisher-Price Laugh & Learn Jumperoo is a quality baby jumper and the majority of users who have purchased it are quite happy with their decision. It has a durable frame and sturdy base, and it promotes comfort and safety.
With six toy stations and two overhead toys, our research showed that this jumper is very engaging and most babies just love it. However, the horse and pig stations don't do much, but we've found that that mostly bothers the parents, not the babies.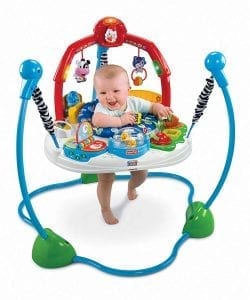 This jumper features plenty of stimulating lights and sounds, and it has two modes – a Musical Fun mode and an Early Learning Fun mode. The Musical fun mode provides uninterrupted music and lights, while the Early Learning Fun mode allows the baby to activate lights and songs. This helps them learn cause and effect, colors, animals, objects, and shapes.
But that's not all:
The seat on this jumper can rotate 360 degrees and the height is adjustable, so you can use it as your baby grows. It's easily assembled using the instruction manual and comes with a limited warranty.
When it comes to cleaning, this jumper is very low-maintenance. The seat pad can be washed and dries in machines, and other parts are mostly wipe-down. The only major downside that we've found is that the jumper is quite large, so it's not easy to transport or store.
Features:
Dimensions: 32.5 x 32.5 x 31.5 inches
Weight: 17 pounds
Weight limitation: 25 pounds
Suitable for children who can hold their head up unassisted
6 toy stations and 2 overhead toys
Seat pad machine washable and dryer safe
Stimulating lights, music, and sounds
2 modes for early development
Durable frame
360-degree rotating seat
Height adjustment
Powered by 3 AA batteries (not included)