The Ferplast Pig Cage is large enough for a single guinea pig (preferably a small baby or an elderly one), but reviewers warn that it doesn't provide much room for an active guinea pig, much less two.
In fact, one owner chronicles his guinea pig's experience with this cage: the pet only had enough room to run around in circles and eat.
Once the owner moved the guinea pig to a larger cage, it became more active.
Boredom, obesity and other health issues result from too-small cages.
On the go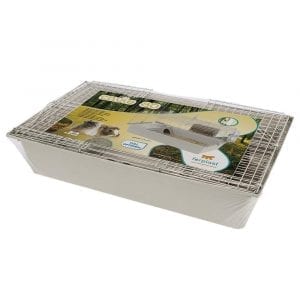 Reviewers do praise the Ferplast Pig Cage for its portability. Easy to carry and transport around the house, this cage allows the guinea pig to move wherever people are.
One pet parent reports that her guinea pig perches on the raised platform in order to watch family members.
Easy enough for a kid
One entire side opens up easily for cleaning. Several reviewers remark that their children as young as five years old can operate the door and clean the cage.
A word of caution:
While the included plastic structure (platform/hideaway) is convenient and fun, it creates a few dangers.
One person notes the structure doesn't sit flush against the cage walls, leaving gaps where guinea pigs' feet and legs could get caught.
Another found her guinea pig with its head stuck under the plastic "house" and dead.
Also,
Criticisms include the water bottle leaking and not fitting the holder, missing or broken parts, and damaged units upon delivery.
Features
Cage dimensions: 30.3" long x 18.9" wide x 16.5" high
Weight: 8.46 pounds
Includes one 0.16 gal. water bottle, one hay feeder, one bowl, and one guinea pig house