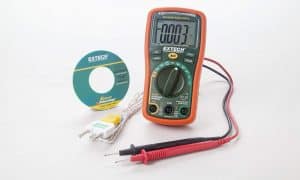 The Extech EX330 is a simple to use multimeter that offers an array of functions in one device. This unit provides voltage testing as well as temperature readings, allowing you to test a variety of electrical devices.
The multimeter has a compact design and an integrated LED screen that displays readings with 1-inch. numbers. There are no true RMS reading on this multimeter, but it does offer auto-ranging that is built into the device.
For your safety, the Extech EX330 is Cat 111 600V UL listed. It also features a non-contact AC voltage detector and offers 12 different measuring and testing functions. The device comes packaged in a rubber holster for added protection and durability. It is powered by AAA batteries.
This multimeter would be ideal for a novice user since it's simplistic in its design and features. A professional electrical contractor may find this multimeter is lacking some of the necessary functions that other models may offer.
Features
Cat III - 600V UL listed
Built-in auto-ranging
Type K temperature probe
Non-contact AC voltage detector
Digital display
12 diagnostic functions
Auto power off