The premier ultrasonic humidifier from Everlasting Comfort gets our top nod on this list, thanks to a powerhouse of features. The Everlasting Comfort Ultrasonic Humidifier is built with high-quality materials which helps it withstand lengthy service hours.
This portable humidifier holds six liters of water - the perfect size to make it both portable and practical. You can virtually leave it running for the entire night without having to top it up. It also features a rotating 360-degree nozzle that matches perfectly with its powerful motor.
Best of all,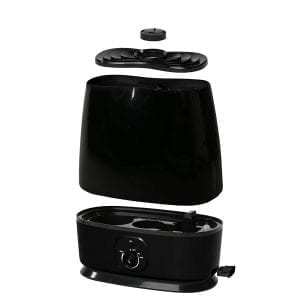 The Everlasting Comfort Ultrasonic Humidifier has a filter-free design, which saves you money over time. No more wild goose chases when you need to replace the filter. It's an excellent choice for those who want maintenance-free humidifiers.
For us, having a filter-free design is a big upside. You'll never know when companies would stop making the filters. It's practical to keep your device working without having to buy filters from the same company.
Features
No-filter design
Extra-large water tank
360-degree rotating mist nozzles
LED nightlight
Silent technology
Auto shut-off
Essential oil tray