The 2017 Everlast PowerMIG is a feature-rich MIG welder that packs a lot of power and versatility. Weighing only 37 pounds, this highly portable MIG welder is also capable of stick welding and using flux core in case you need to switch.
It comes with many controls, accordingly, we found it easy to regulate the arc characteristics whether in MIG or Stick modes.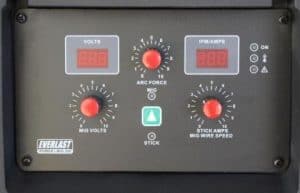 What really impressed us?
We noticed this welder starts the shielding gas automatically before feeding the wire and continues the gas flow for a moment after the welding has stopped. This reduces porosity and improves the quality of the results significantly.
We found the burn back control feature to be useful during each restart since it reduces the amount of trimming needed on the wire. The digital controls also give you the exact readings of details such as wire speed and voltage.
What's more…
This welder has a dual voltage design, meaning it can be used with both 110V and 240V outlets depending on preference. The kit includes an air regulator, hoses, and an extra wire feed wheel for the core flux wire.
The 2017 Everlast does not come with a helmet, but you can check this one out. Also, to prevent the weld splatter from adhering, you can invest in a great welding nozzle gel.
Features
Stable, low spatter arc performance
Capable of Stick welding when MIG is not necessary and can weld using flux core wire
Ability to weld aluminum using optional MIG gun
Automatic pre-flow and post-flow gas control
Adjustable burn back control