When you're in the market for a quality baby jumper, make sure to check out this Evenflo ExerSaucer. This cute jumper is designed to feature everything your baby needs for healthy development. Also, it can be used for a long time since the height is adjustable, so it can fit both older and younger babies.
One of the best features of this jumper is the great bounce base, which has a soft landing pad and promotes stability. The customizable toy selection lets you choose which toys you want your little one to play with, and there are over 17 activities included in the set.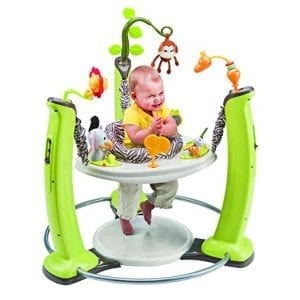 That's not all:
When your baby is placed in this jumper, they'll have a great variety of toys to choose from, and they can easily access them all because of the rotating seat which goes all the way around. The engaging lights and sounds will keep your baby entertained for ages.
This jumper is easy to assemble, although some users find the instruction manual to be a bit confusing. You can download the instructions by clicking here. Also, make sure to put the batteries in during assembly, as they're a pain to put in later.
Another downside of this jumper is its size – many users find it to be very large and not easy to move around, especially from room to room. However, the good thing is that this jumper is covered by a limited warranty.
Features:
Dimensions: 10 x 23.5 x 29 inches
Weight: 21,7 pounds
Weight limitation: 25 pounds
360-degree rotating seat
Bounce base
Customizable toy selection
17+ activities
Engaging lights and sounds
Easy to clean and maintain (machine washable)
Height adjustment
Simple to assemble
Powered by 3 AA batteries (not included)